Abolition
Abolition – Prenez position from Marcel on Vimeo.
The Problem: Lack of awareness and feeling of lack ability to do anything about the death penalty.
The Solution: Abolition is a installation done at France's National Library using two large screens and QR code.  The screens are placed on the opposite ends of the hallway. As the user walks through, they stand
Seoul PSA – Child Abuse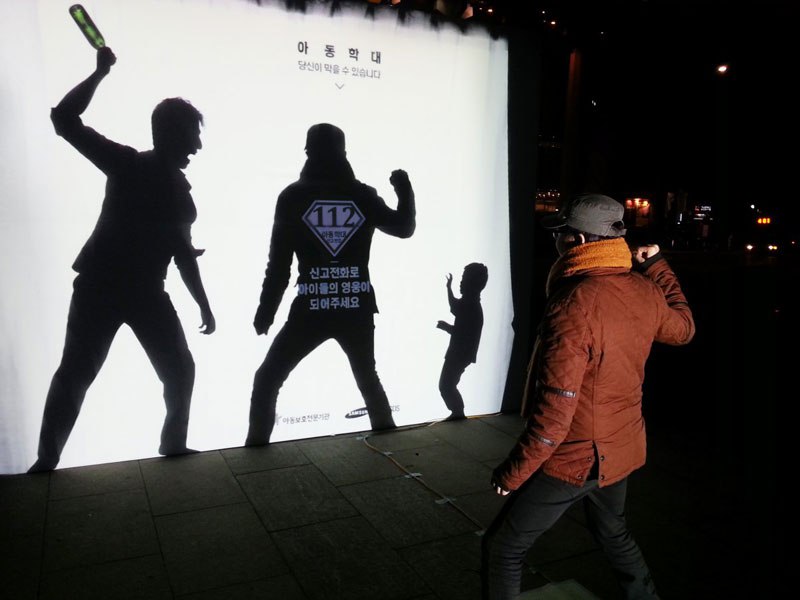 The Problem: Child Abuse and people feeling they can't interfere.
The Solution: A PSA was created using screen and shadows.  On the white screen is a print of the shadows of a person abusing a child.  As the user steps up, a light shines on to them showing their shadow intervening between the two.  At the same time, a superman logo appears with the number 112 and the message "Report (call) to become a hero for children."
Volkswagen – The Human Crossing

The Problem: Encourage drivers to stop at crosswalks/zebra lanes and decrease accidents related.
The Solution: The Human Crossing is a projected created by Volkswagen that uses RFID chips in pins that are given to children in the neighborhood that are then connected to billboards that display the child's name as they cross the street. The mission was to make the interaction more personal to the driver.
Looking for You:
#LookingForYou from #LookingForYou on Vimeo.
The Problem:  Encourage adoption of a rescue dog.
The Solution: Looking For You is a screened based installation that creates the experience of a dog following users through a shopping mall.  The user is first given a pamphlet with a paper-thin RFID.  As the user walks through the mall, the screens around the mall start to change and creates a visual of a dog following the person.
ASSS: Bring The Billboard To Life
The Problem: Instill the idea that every person has the ability to save a life.
The Solution:  Bring The Billboard To Life is an interactive billboard that lets people "resuscitate" a person. As the user presses on the patients chest, a connected heart monitor begins to beat to indicate that the patient saved the patients life.
Street Pong
STREETPONG from HAWK Hildesheim on Vimeo.
The Problem:   Preventing stress that comes with waiting and preventing crossing when the light is red.
The Solution: ActiWalk is a game and interface created by Urban Invention. While the pedestrians are waiting on the sidewalk, they can play pong with their counterpart across the street.  At the same time, the color begins to drain out of the screen to indicate the amount of time left before the light changes.